Data della prima trasmissione: 2016-09-05
Ultima data di rilascio: 2016-09-05
Paese originale:
Lingua originale: en
Runtime:
Produzione: Left/Right /
Generi:

Documentary

Rete TV:
15 Septembers Later
Numero di stagioni: 1 Numero di episodi: 1
Panoramica: Featuring interviews with key political figures including President George W Bush, Vice President Dick Cheney, Donald Rumsfeld, Rudolph Giuliani, Michael Bloomberg, and media heavy hitters Dan Rather, Tom Brokaw and Matthew Broderick, this documentary event examines 9/11 through the lens of the last 15 years. Brought to life by photos declassified in 2016, recently released documents from the 9/11 commission, and never before heard stories from photographers and first responders, a new perspective will arise to provide an unrivaled viewpoint of the historic attack.
Elenca tutte le stagioni:
15 Septembers Later 2016
Spettacolo TV nella stessa categoria
Rescue Me revolves around the lives of the men in a New York City firehouse, the crew of 62 Truck. Examining the fraternal nature and relationships of firefighters, the series tackles the daily drama of the life-and-death situations associated with being a firefighter, while exploring the ways the men use dark humor to protect their true emotions.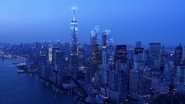 A massive effort is currently under way to reshape ground zero into an expansive 16-acre complex the likes of which has never been seen before. To document this historic effort, we are on the ground alongside the men and women who are making this vision a reality until the nationally televised unveiling of the new ground zero with President Barack Obama on Sept. 11, 2011.